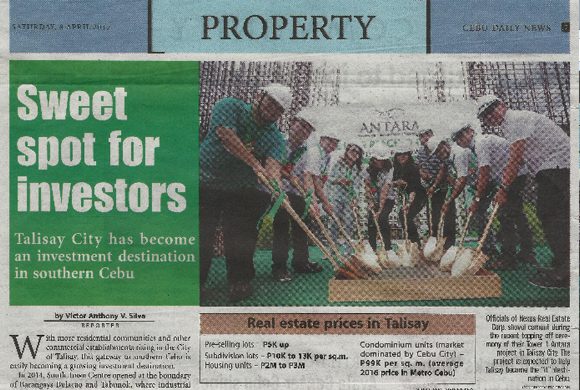 Talisay City has become an investment destination in southern Cebu.
With more residential communities and other commercial establishments rising in the City of Talisay, this gateway to southern Cebu is easily becoming a growing investment destination.
In 2014, South Town Centre opened at the boundary of Barangays Bulacao and Tabunok, where industrial and commercial activities take place.
"The city is the gateway to the south and it is the place where most of the high-end residences are located," said Grace Labunog, the mall's head of operations.
Labunog said the mall had seen significant growth since it was introduced to the public three years ago, owing to Tabunok being the busiest place in the city.
She said most of the mall visitors are students from different schools in Talisay and the nearby town of Minglanilla.
"We also cater to residents of subdivisions and villages as well as corporate clients," Labunog said.
Tenant occupancy has grown from 32 regular tenants in November 2014 to 38 regular tenants to date while foot traffic has grown double over the same period.
Much of the commerce in Talisay occurs within the Tabunok area, where several public markets, strip malls and other commercial establishments are located.
The area also serves as a commercial hub for traders from farther south because of its proximity to Cebu City.
Data from the Department of Trade and Industry (DTI) showed that among the establishments in Talisay include marine products processing plants, sari-sari stores, restaurants and cafeterias, general merchandising stores, and motels.
Labunog said that while she was confident of Talisay's growth through the support of the local business community, she said the local government should first solve traffic problems hounding the city.
Investors, however, are starting to notice Talisay City because of the low prices of real estate there as compared to other localities close to Cebu City.
Talisay, a third income class city located 13 kilometers south of Cebu City, can be accessed via the national highway or the south coastal road at the South Road Properties (SRP) through Barangay Lawaan.
Founded as an Augustinian-owned estate in 1648, Talisay was converted into a municipality in 1849 and then into a city in 2000.
The city's name is taken from the magtalisay tree, a large tropical tree in the leadwood family, which used to be abundant in the locality.
In its place now stand various commercial establishments and residential projects.
Among them are Aboitiz Land's Kishanta, Primary Homes' South Glendale Subdivision, and Vista Grande Subdivision by Asian Pacific Group of Companies, to name a few.
One of the latest to enter Talisay City's property market was Nexus Real Estate Corp., which is currently constructing its first vertical development called Antara.
The multi-billion-peso venture located in Barangay Lawaan, less than one kilometer away from the SRP access road, is also primed to be the first condominium project in the city.
Manny Roleda, NREC vice president for marketing, said they hope to make Antara Talisay's "it" destination and make the city attractive to tourists because of this development.
Published on Cebu Daily News April 8, 2017